Advanced Qualification (Level 3)
Control risks to health and safety in agriculture/horticulture

Target: Specific to those responsible for assessing and controlling risks to health and safety in agriculture/horticulture including supervisors, skilled employees, unit managers, union or worker safety representatives and farmers/growers who are self-employed or employing only family labour.

Maps to National Occupational Standards in:Agriculture/horticulture: Units CU2 & CU3 Employment - Units B, F & G of the H, S & E stand alone units.

Learning outcomes:
Element A: core competenciesOn completeing this unit people will able to:

Explain the difference between hazard and risk

Recognise how people's knowledge, experience and attitude affect their perception of risk.

Explain the heirarchy of measures to control risk and how the principle of 'so far as is reasonably practicable' will affect their application

Where appropriate, communicate with staff and management about health and safety particularly when introducing new work equipment, chemicals, working practices

Recognise how purchasing decisions can reduce risks to health and safety.

Investigate accidents and incidents to establish root and underlying causes.

Where appropriate, contribute to and implement procedures to enact the health and safety policy

Carry out a workplace inspection and, where appropriate, report findings to management.

Element B: agricultural/horticultural competencies
On completing this element, people working in agriculture/horticulture will be able to:

Identify the main health and safety law applying to agriculture/horticulture

Identify sources of guidance on good practice standards in agriculture/horticulture

Complete task specific risk assessments appropriate to agriculture/horticulture with consideration of others (eg members of the public, children and vistors to the farm) who may be affected.

Identify who may need to know the significant findings and conclusions of risk assessments

Identify, and where necessary recommend, control measures which meet appropriate good practice standards in agriculture/horticulture

Instruct workers and/or contractors about relevant control measures

Recognise the measures to reduce risks from lone working in agriculture/horticulture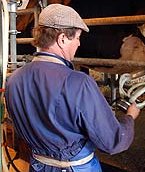 Click graphic to find out how these Agric H&S qualifications were developed
See how these H&S Learning Outcomes may relate with each other in H&S Drag n Drop