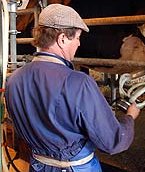 Follow the steps the TGWU farmworkers have taken with the UKs Health & Safety Executive to develop H&S skills for all people on farms and other land-based work.
Step 1
Recognise: There is a major learning skills agenda which could be mobilised to improve health and safety in land based industry.

Step 2
Look: Health and Safety skills have developed from legal requirements.
Step 3
Work out: How these skills can be applied to land-based industries at all three levels.

The TGWU Farmworkers' Health and Safety committee (RAAW) endorsed the strategic agreement complete with Annex 1 that outlined the H&S functions at each level. The agreement was launched at an Agricultural H&S Summit in January 2004:
The core and agricultural competencies required are:
Level 4 (Managers),
Level 3 (skilled workers) and
Level 2 - for all workers
Step 4
Join Up: These Health & Safety respond to the Curry Report (pdf) which mentions the appalling death rate in farming (p48)
This is how Health & Safety is part of sustainable development But the Greek Presidency of EU didnt agree and bumped it out.
Step 5

The strategic agreement has now been passed to a consortium of Awarding Bodies who will put these competencies into awards under the guidance of the QCA ready to make qualifications.

Two Awarding Bodies - LANTRA Awards and NPTC, both offer the suite of qualifications.

It is interesting to compare the final Learning Outcomes in the qualifications and those spelt out in the Strategic Agreement Annex 1. Can you see how each match up - especially the Level 4?
Health and Safety Practices
QCA accredits level 3 & Level 2 H&S qualifications for ag/hort
2007
QCA accredits management level 4 H&S qualification for agriculture and horticulture - whole suite now accredited
The final stage in the process is that terms were negotiated in the latest legal Wages Boards settlement. The H&S certificates of competence can help agricultural workers UP GRADE - see AWO 2012 p51.
2008
Presentation of awards to first students completing the AG/Hort H&S qualifications at HSE stand, Royal Show July 3. YEAHH!!