WELCOME TO COOPERATIVE RETAIL
ONLINE
PESTICIDE CODE of PRACTICE
The long term aim of this Cooperative Retail Online Pesticide Code of Practice (CROPCoP) is to help suppliers improve ways to reduce the use of pesticides. By using new technologies, there can be faster and easier communication between our suppliers. We can also identify where suppliers and growers are going to need help and support in reducing those pesticides of most concern.
Cooperative Retail is at the forefront of pesticide reduction because both our customers and members want this. In a recent survey of Cooperative members (Jan 2008) , when asked what they considered important in a Food Ethics Policy, 98% said "pesticide residues". When surveyed a few years ago, three quarters of our members were concerned about pesticides causing harm to growing children, to themselves, to farmworkers or to wildlife, and polluting watercourses .
Cooperative Retail has developed a method for going beyond minimal legal requirements. While regulations ensure that there is not significant damage, Cooperative Retail wants to develop 'best practice'. The method identifies the pesticides which have intrinsic hazards that may damage people or the environment, by using a "hazard-trigger approach" based on internationally recognised standards. (see background for more)

There are an increasing number of systems and standards - such as GlobalGap, to ensure good practices with handling pesticides. There is also a forthcoming EU Directive - called Susatinable Use of Pesticides (see Noticeboard) that requires all nation states to have targets for reduction. Cooperative Retail's online Code of Practice helps suppliers conform to all these sorts of systems and standards - in a very transparent way. Suppliers enter the required data into online databases that can be interrogated from anywhere in the world - including from 'a blackberry in a field'.
Sample Quiz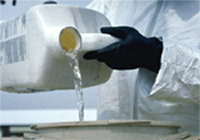 The Online Code is not simply an electronic audit but is also intended to help suppliers and growers learn what needs to be done. There is lots of webby support - eg links to recognised resources, internal search engine, noticeboard, glossary and quizes. Test your knowledge of pesticide use in UK