All our on-line programmes have comprehensive guides, search engine and site map to help you. We include games and quizes to complement the workplace activities designed to help you develop practical skills for promoting sustainable development. We have included steps from the guide here so you can see the journey through the programme: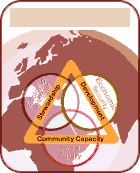 Programme overview
In this Sustainable Development Programme, you are going to look at how your workplace links with the wider world and discover ways to promote sustainable development.
The first thing you will have to do is get a better understanding of what sustainable development means.
Then you are introduced to the "tools" of sustainable development. You will find out how people are trying to measure progress in sustainable development. Then you will be asked whether you can see any signs of these tools being put to use now, somewhere round you.
And as you are looking round, you will see something that could be used to promote sustainable development. You will pick this up and check it against your standards of sustainable development. You will note any differences. Then you will check them against the government indicators.
Now you really are going to step outside and look further a field to see if you can see any sustainable development initiatives being made. Possible partners who may be doing something to promote sustainable development already are the local authorities, banks, companies and voluntary groups. You will contact some of them to see how they can help you. There is just one more thing to check before you come up with your own proposal. You will need to know who are the main policy makers. They both influence and can be influenced through various routes. You will contact these other groups and analyse their role.
And now you come to what you have been preparing for all along. You are going to come up with your own suggestion to promote sustainable development. That is pretty daunting, but by now you have picked up the skills to do it. You can now plan, pick the right tool, identify targets, name the policy makers, and find possible partners. Using those skills, come up with your own proposal for sustainable development!

Finally you will be asked to reflect on what you may have learnt and found out about during the programme.